Account & Project Manager Social Media (SNS)
Building Better Brands
zooom productions is a full-service communications agency with offices in Fuschl am See / Austria and Los Angeles / USA and Tokyo / Japan. With a focus on adventure and action sports, lifestyle, and imaging, zooom always has an eye out for the unusual and unconventional trends. The portfolio ranges from communication and advertising concepts to web and multimedia design, photo / film productions and content providing. Our clients include renowned global businesses such as Red Bull, GoPro, Leica, Sony, Salewa and Yodobashi.
We are hiring: Account & Project Manager Social Media (SNS)
To strengthen our young growing team, we are looking for an experienced Account & Project Manager Social Media (SNS) to grow our clients social media accounts with focus on e-commerce.
This client facing position requires you to concept, execute and monitor social media marketing strategies in close cooperation with our clients. Ultimately, you should be able to handle our clients' social media presence ensuring the high-quality content drives relevant web traffic and customer engagement.
As a SNS Project Manager we expect you to be up to date with the latest digital technologies and social media trends. We expect that you are hungry to keep your skills fresh and always on the highest level.
In this position you can live your leadership role by taking the responsibility for your team, developing skills and mentoring.
You will lead and grow the SNS team to execute one-of-a-kind projects and take over the communication between clients, project partners and the internal team.
We expect excellent communication skills and your ability to impress clients with our company's views creatively.
Your Responsibilities
Lead our SNS team with focus on Instagram and TikTok.
Define, oversee and report most important social media KPIs.
Manage and oversee social media content.
Measure the success of every social media activity
Stay up to date with latest social media best practices and technologies.
Use social media marketing tools such as Meta Business, SkedSocial etc.
Implement a content editorial calendar to manage content and plan specific, timely custome requirements.
Work with copywriters and photo- and videographers to ensure content is performing and meets our quality standards.
Collaborate with internal and external marketing and sales teams.
Monitor costs and work within budget.
Monitor KPI and user engagement and suggest content optimization.
Communicate with industry professionals and influencers via social media to create a strong network.
Winning presentation skills in Japanese and English.
Cultivate channel growth, leads and sales.
Provide constructive, crystal-clear, helpful feedback.
Adhere to rules, workflows, and regulations.
Attend educational conferences.
You will directly report to the executive level.
Our requirements
Minimum of 3-5 years of experience in large reach corporate social media account management.
Minimum of 3 years of experience in the position of a project manager.
Lead, administrate and develop smaller teams of creative people.
Proven track record in developing successful SNS marketing content strategies and growing loyal audiences through social media.
Eye for details and quality.
Open, positive, convincing personality.
Strong understanding of the social media and EC landscape.
Deep knowledge of the relationship between paid and organic social media initiatives.
Planning and executing projects resourcefully with minimal supervision.
Profound knowledge of e-commerce / multi-channel strategies.
Master's or bachelor's degree in marketing or relevant field.
Preferable agency experience in working with international clients.
You can master our software toolbox (MacOS, Adobe Creative Suite, MS Office, Excel on an advanced level).
Knowledge in Confluence / Jira is a bonus but not requires.
Language Requirements
Business level Japanese (written and verbal; minimum BJT J1 / native level is preferred) and working proficiency in English.
Employment Type
Full-time
This position will require your attendance in our office, hybrid models are negotiable
Some business travels can be required in the future
Download karriere.at version
Download karriere.at DE version
INTERNSHIP
Join us for several months as part of your studies and learn on the job working in one of the teams. It could be in design, events or communications. It's a great chance to gain valuable experience.
JUNIOR
Your first step on the career ladder! This is the entry position for graduates looking to get started. You'll be working on big projects right from the start and learning fast as you progress.
PRO
This is where the magic happens. You could be an account manager, graphic designer, videographer. You already have some experience and now you're working directly with our global sports, lifestyle and photography clients.
SENIOR
You're a great motivator and thrive on taking the lead, driving projects through from concept to completion, giving direction and sharing knowledge, while developing your own experience.
LEAD
Now is the time to help shape creative and strategic vision, for example as Art Director, Head of Communications or Content Creation. You're already an experienced leader, full of ideas and ready to take on full responsibility.
TEAM LEAD
The most senior leadership role – you'll be working directly with the CEO, leading and managing a department and working on budgets, planning, strategy development, business opportunities and human resources.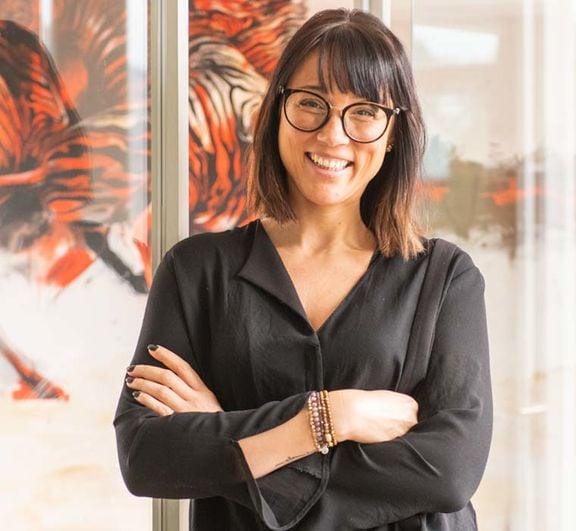 I LIKE WORKING ALONGSIDE COOL, CREATIVE AND INSPIRATIONAL PEOPLE AND THEREFORE I CAN'T WAIT TO SEE YOUR APPLICATION TO CREATE AWESOME STUFF TOGETHER.
Ruth Leon-Alarcon, HR & Office Manager
CAN'T SEE WHAT YOU'RE LOOKING FOR?
Don't worry!

Simply send us an unsolicited application or sign up for our job alerts and we'll send weekly career opportunities directly to your inbox.