ICT SERVICE / SYSTEM / TECHNICIAN (m/f/d) – Part time: 10h - 20h/week
Building Better Brands
Integrity, focus, and excellence – our values not only define our work, they're exactly what we look for in our team members.
zooom is not your average creative agency, we pride ourselves on being approachable and down to earth. We're a young and dynamic team with more than 15 nationalities from all over the world. Together, we inspire and aspire to push the boundaries of each and every project we engage in.

YOU ...
will support our head of Information and Communication Technology team
are comfortable in spoken and written English and German
are precise (e.g.: archiving and migration tasks, ...)
are flexible and organized
have a communicative and resilient personality
have a friendly and professional attitude and enjoy working in a team
are understanding to the problems of your colleagues
are result-driven, proficient and bring in your own creative ideas
bring some experience with mac OS, iOS, Windows and Android operating systems and with network technologies
want to learn to administer:

operating systems as mentioned above (client computers are from Apple)
embedded operating systems like: NAS, switches, WLAN, firewall, telephone system/switchboard
software and software services. E.g.: Microsoft 365, Google Workspace, Adobe Creative Cloud
And will ...
Depending on your skills and experience you will support our IT department with some of the following tasks:
take care of the trouble-free operation of all ICT infrastructure together with the colleagues
setup new hardware
1st and 2nd level support on the phone or at the colleague's desk
archive data sets
research for new or alternative products and services
monitor and control server and network components, backup tasks and possibly solve the issues
handle correspondence with suppliers and ICT departments of our clients and partners
carry out tasks in connection with the GDPR (general data protection regulation)
update our internal documentation
The workplace will be in Fuschl am See. After the probationary period, it is possible to work partially on a remote workplace (Homeoffice) in consultation with the ICT team.
Download karriere.at version
Download karriere.at DE version
INTERNSHIP
Join us for several months as part of your studies and learn on the job working in one of the teams. It could be in design, events or communications. It's a great chance to gain valuable experience.
JUNIOR
Your first step on the career ladder! This is the entry position for graduates looking to get started. You'll be working on big projects right from the start and learning fast as you progress.
PRO
This is where the magic happens. You could be an account manager, graphic designer, videographer. You already have some experience and now you're working directly with our global sports, lifestyle and photography clients.
SENIOR
You're a great motivator and thrive on taking the lead, driving projects through from concept to completion, giving direction and sharing knowledge, while developing your own experience.
LEAD
Now is the time to help shape creative and strategic vision, for example as Art Director, Head of Communications or Content Creation. You're already an experienced leader, full of ideas and ready to take on full responsibility.
TEAM LEAD
The most senior leadership role – you'll be working directly with the CEO, leading and managing a department and working on budgets, planning, strategy development, business opportunities and human resources.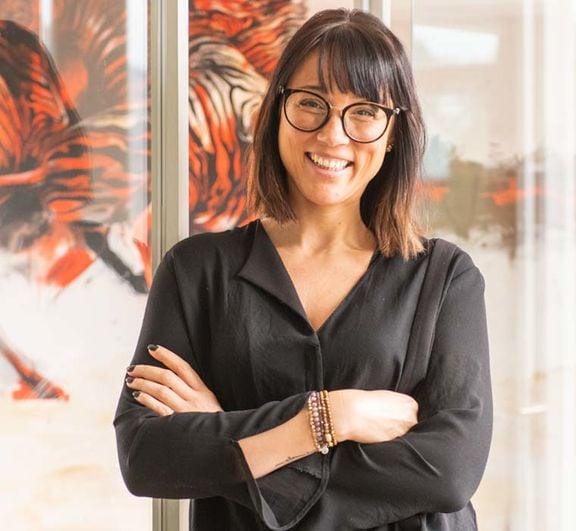 I LIKE WORKING ALONGSIDE COOL, CREATIVE AND INSPIRATIONAL PEOPLE AND THEREFORE I CAN'T WAIT TO SEE YOUR APPLICATION TO CREATE AWESOME STUFF TOGETHER.
Ruth Leon-Alarcon, HR & Office Manager
CAN'T SEE WHAT YOU'RE LOOKING FOR?
Don't worry!

Simply send us an unsolicited application or sign up for our job alerts and we'll send weekly career opportunities directly to your inbox.