Project Manager UI / UX, Bilingual
Building Better Brands
zooom productions is a full-service communications agency with offices in Fuschl am See / Austria and Los Angeles / USA and Tokyo / Japan. With a focus on adventure and action sports, lifestyle and imaging, zooom always has an eye out for the unusual and unconventional trends. The portfolio ranges from communication and advertising concepts to web and multimedia design, photo / film productions and content providing. Our clients include renowned global businesses such as Red Bull, GoPro, Leica, Sony, Salewa and Yodobashi.
We are hiring: (Junior) Project Manager
As a bilingual (Junior) Project Manager for our UX/UI projects, you will play a pivotal role in overseeing and coordinating the development and delivery of state-of-the-art user-centric digital experiences. Your ability to effectively communicate and collaborate in both Japanese and English will be crucial in ensuring seamless project execution and client satisfaction. You will work closely with cross-functional teams, including designers, developers, and clients, to drive projects from conception to completion, meeting deadlines and delivering high- quality results.
Your Responsibilities
Collaborate with clients and external partners to understand project requirements and objectives, ensuring clear communication throughout the project lifecycle
Assist in defining project scope, goals, and deliverables in collaboration with key stakeholders
Coordinate and communicate project tasks and priorities to internal teams, ensuring alignment and efficient utilization of resources
Monitor project progress, identify potential roadblocks, and proactively address issues to keep projects on track
Facilitate regular project meetings, providing status updates, collecting feedback, and addressing concerns
Manage project documentation, including project briefs, status reports, design reviews, and change requests
Develop detailed project plans, including timelines, tasks, and resource allocation, to ensure successful project execution
Foster positive working relationships with team members, clients, and external partners, promoting a collaborative and results-oriented environment
Ensure adherence to project budgets and timelines, making adjustments as needed to achieve project goals
Contribute to continuous process improvement by identifying opportunities to streamline workflows and enhance project efficiency
Our requirements
Bachelor's degree in a relevant field (e.g., Project Management, UX/UI Design, Computer Science, or related disciplines)
Business level Japanese and working proficiency English with excellent written and verbal communication and presentation skills
2-3 years of project management experience, preferably in a digital agency or UX/UI design environment
Proven understanding of UX/UI design principles and methodologies
Knowledge of programming principles or a computer science background is a strong plus but not required
Strong organizational skills and attention to detail, with the ability to manage multiple projects simultaneously
Proven ability to collaborate effectively with cross-functional teams and build strong working relationships
Proficiency in project management tools and software (e.g., JIRA, Confluence) is desirable
Problem-solving mindset and proactive attitude, with a commitment to delivering high-quality results
Language Requirements
Business level Japanese (written and verbal; native level is preferred) and working proficiency in English
Fluency in both Japanese and English languages (written and verbal) is an essential requirement for this role, as the candidate will be required to communicate effectively with team members and clients in both languages
Employment Type
Full-time
This position will require your attendance in our office, hybrid models are negotiable
Some business travels can be required in the future
Download karriere.at version
Download karriere.at DE version
INTERNSHIP
Join us for several months as part of your studies and learn on the job working in one of the teams. It could be in design, events or communications. It's a great chance to gain valuable experience.
JUNIOR
Your first step on the career ladder! This is the entry position for graduates looking to get started. You'll be working on big projects right from the start and learning fast as you progress.
PRO
This is where the magic happens. You could be an account manager, graphic designer, videographer. You already have some experience and now you're working directly with our global sports, lifestyle and photography clients.
SENIOR
You're a great motivator and thrive on taking the lead, driving projects through from concept to completion, giving direction and sharing knowledge, while developing your own experience.
LEAD
Now is the time to help shape creative and strategic vision, for example as Art Director, Head of Communications or Content Creation. You're already an experienced leader, full of ideas and ready to take on full responsibility.
TEAM LEAD
The most senior leadership role – you'll be working directly with the CEO, leading and managing a department and working on budgets, planning, strategy development, business opportunities and human resources.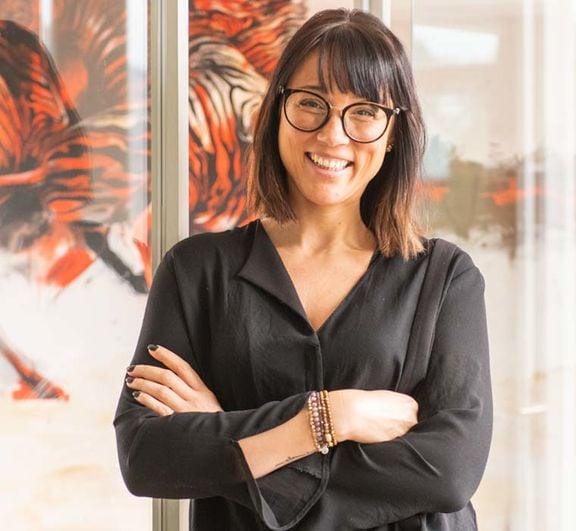 I LIKE WORKING ALONGSIDE COOL, CREATIVE AND INSPIRATIONAL PEOPLE AND THEREFORE I CAN'T WAIT TO SEE YOUR APPLICATION TO CREATE AWESOME STUFF TOGETHER.
Ruth Leon-Alarcon, HR & Office Manager
CAN'T SEE WHAT YOU'RE LOOKING FOR?
Don't worry!

Simply send us an unsolicited application or sign up for our job alerts and we'll send weekly career opportunities directly to your inbox.