Part-Time Office Administrator
Building Better Brands
Integrity, focus, and excellence – our values not only define our work, they're exactly what we look for in our team members.
zooom is not your average creative agency, we pride ourselves on being approachable and down to earth. We're a young and dynamic team with more than 15 nationalities from all over the world. Together, we inspire and aspire to push the boundaries of each and every project we engage in.

We are hiring: Office Administrator (m/f/d) - Tokyo
Are you an organized and detail-oriented individual looking for a part-time administrative role? We have an excellent opportunity for you to join our team as a Part-Time Office Administrator. If you thrive in a fast-paced office environment, have strong organizational skills, and enjoy providing exceptional support, we want to hear from you!
Your responsibilities
Greet visitors, answer phone calls, and provide excellent customer service to clients and guests, ensuring a professional and friendly atmosphere in the office.

Handle incoming and outgoing mail, packages, and deliveries.

Maintain office supplies inventory and place orders as needed.

Assist with scheduling and coordinating meetings, appointments, and travel arrangements.

Assist with data entry, document preparation, and filing.

Select suppliers and obtain quotations in both languages.

Provide general administrative support to various departments as needed.

Assist with basic bookkeeping tasks, such as recording expenses and managing invoices.

Provide assistance with ad-hoc projects and assignments, as needed.

Ensure the office is tidy and well-organized at all times.
Our requirements
Fluency in both Japanese and English languages (written and verbal) is essential

Previous experience in an administrative or office support role is preferred.

Strong organizational and multitasking skills with the ability to prioritize tasks effectively.

Excellent communication and interpersonal skills.

Friendly, curious, and open personality.

Proficiency in macOS, Microsoft Office Suite (Word, Excel), Mail and Google Docs.

Attention to detail and a high level of accuracy in all work.

Proactive and self-motivated with a positive and can-do attitude.

Ability to work independently and as part of a team

Ability to maintain confidentiality and handle sensitive information with discretion.

Flexibility and adaptability to work in a fast-paced and dynamic environment.

Availability to work part-time hours (e.g., 20 hours per week) with a flexible schedule.
Language Requirements
Business level Japanese (written and verbal; native level is preferred) and working proficiency in English.

Fluency in both Japanese and English languages (written and verbal) is an essential requirement for this role, as the candidate will be required to communicate effectively with team members and clients in both languages.
Employment Type
Parttime; The actual amount of work and working times are negotiable.

This position requires your attendance in our office. As for now we cannot offer work from home or hybrid models for this position.
Download karriere.at version
Download karriere.at DE version
INTERNSHIP
Join us for several months as part of your studies and learn on the job working in one of the teams. It could be in design, events or communications. It's a great chance to gain valuable experience.
JUNIOR
Your first step on the career ladder! This is the entry position for graduates looking to get started. You'll be working on big projects right from the start and learning fast as you progress.
PRO
This is where the magic happens. You could be an account manager, graphic designer, videographer. You already have some experience and now you're working directly with our global sports, lifestyle and photography clients.
SENIOR
You're a great motivator and thrive on taking the lead, driving projects through from concept to completion, giving direction and sharing knowledge, while developing your own experience.
LEAD
Now is the time to help shape creative and strategic vision, for example as Art Director, Head of Communications or Content Creation. You're already an experienced leader, full of ideas and ready to take on full responsibility.
TEAM LEAD
The most senior leadership role – you'll be working directly with the CEO, leading and managing a department and working on budgets, planning, strategy development, business opportunities and human resources.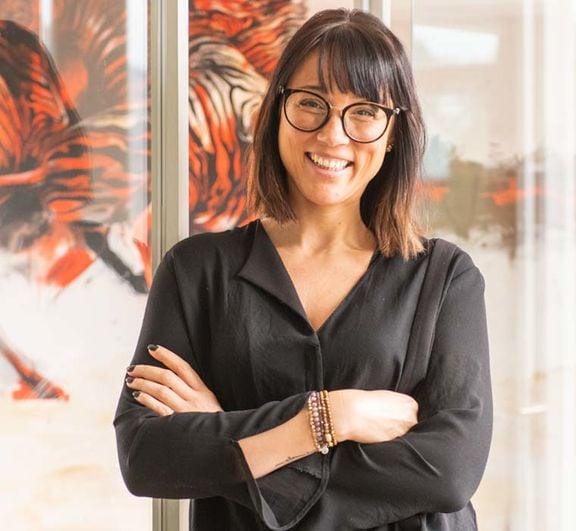 I LIKE WORKING ALONGSIDE COOL, CREATIVE AND INSPIRATIONAL PEOPLE AND THEREFORE I CAN'T WAIT TO SEE YOUR APPLICATION TO CREATE AWESOME STUFF TOGETHER.
Ruth Leon-Alarcon, HR & Office Manager
CAN'T SEE WHAT YOU'RE LOOKING FOR?
Don't worry!

Simply send us an unsolicited application or sign up for our job alerts and we'll send weekly career opportunities directly to your inbox.