360° Project & Account Manager (m/f/d) - Tokyo
Building Better Brands
Integrity, focus, and excellence – our values not only define our work, they're exactly what we look for in our team members.
zooom is not your average creative agency, we pride ourselves on being approachable and down to earth. We're a young and dynamic team with more than 15 nationalities from all over the world. Together, we inspire and aspire to push the boundaries of each and every project we engage in.

Job Brief
As a 360° Project & Account Manager in our new Tokyo branch office, you are the glue that keeps projects, people, timings and costs together. Working cross functionally on the development, implementation and delivery of existing and new Digital Initiatives including E-Commerce, Social, Campaigns, Paid Media, Email, Localization, Print, OHH and more. This role will require a high-level understanding of the current e-commerce retail industry, technology system landscapes, project management processes, lean and agile delivery methodologies and experience in delivering projects on time, within budget while managing interdependencies and ongoing updates.
Salary
Negotiable, please include your salary expectations.
Based on ability, experience, and prior treatment, we will decide in accordance with internal regulations.
Your responsibilities
Support the management working across Marketing, Creative, Product, UI/UX and Development partners to deliver high quality digital solutions
Work with external Project Managers at the Product and Project level in support of the development of digital products across channels that drive brand experience, creative expression, and business results
Work cross functionally on large tech initiatives in a fast-paced retail environment, projects will include mobile, digital, social and store technologies
Partner with your teammates and Director on resourcing and team load balancing, strategic and new initiatives.
Work closely with employees, contractors and vendor teams holding them accountable for delivery by clearly developing and communicating plans with interdependencies and deliver against the diverse portfolio
Work with partners to develop and drive technology solutions including features and functionality improvements for our customers.
Partner cross functionality to build on business case development
Deliver programs for Desktop, Social, Email, Apps and Mobile Web experiences
Work with Creative, Innovation, Solution Architects, Technology Delivery Managers, Technology Delivery Managers, Vendors and Developers, Studio and Advertising.
Support the development of status reports, timelines, control project scope and economics, approve changes, manage and resolves issues, risks, and conflicts across all projects in your team.
Serve as a single point of contact and the escalation point between cross functional teams and for your team
Demonstrate our values of Passion for Client Service, Innovation, Expertise, Balance, Respect for All, Teamwork, and Initiative
Partner with client teams to develop clear briefs outlining business requirements and full user experience
Work with global Teammates and your Director to navigate creative approvals with senior management, marketing partners and creative leads
Overseeing the team's outputs and ensuring the quality of deliverables
Understanding clients' requirements and presenting ideas, concepts and solutions to stakeholders
Our requirements
Ideally you have been working in a digital agency or led a team of designers with similar tasks
Fluent in Japanese (business level) and working proficiency in English
BSc. (better MSc) in a relevant field (computer science, marketing, design)
Knowledge of latest UI / screen design trends and willing to keep them updated
Experience in leading small teams
Profound knowledge of web or app development
Ideally you have experience with Sketch, Figma, Adobe XD, Miro and the Adobe Creative Suite
MS Office with advanced Excel skills on Mac or PC
Experience with Jira / Confluence or similar
We are looking forward receiving your written application in English including cover letter, salary expectations and your availability.
Language Requirements
Proficiency in business level Japanese (BJT J1 or BJT J1+ or native) and working proficiency in English (written and verbal), min. TOEIC 850
Employment type
Full-time
This position will require your attendance in our office, hybrid models are negotiable
Some business travels can be required in the future
Download karriere.at version
Download karriere.at DE version
INTERNSHIP
Join us for several months as part of your studies and learn on the job working in one of the teams. It could be in design, events or communications. It's a great chance to gain valuable experience.
JUNIOR
Your first step on the career ladder! This is the entry position for graduates looking to get started. You'll be working on big projects right from the start and learning fast as you progress.
PRO
This is where the magic happens. You could be an account manager, graphic designer, videographer. You already have some experience and now you're working directly with our global sports, lifestyle and photography clients.
SENIOR
You're a great motivator and thrive on taking the lead, driving projects through from concept to completion, giving direction and sharing knowledge, while developing your own experience.
LEAD
Now is the time to help shape creative and strategic vision, for example as Art Director, Head of Communications or Content Creation. You're already an experienced leader, full of ideas and ready to take on full responsibility.
TEAM LEAD
The most senior leadership role – you'll be working directly with the CEO, leading and managing a department and working on budgets, planning, strategy development, business opportunities and human resources.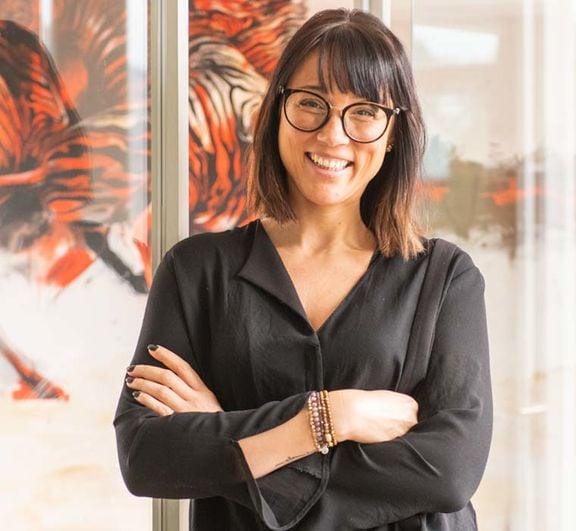 I LIKE WORKING ALONGSIDE COOL, CREATIVE AND INSPIRATIONAL PEOPLE AND THEREFORE I CAN'T WAIT TO SEE YOUR APPLICATION TO CREATE AWESOME STUFF TOGETHER.
Ruth Leon-Alarcon, HR & Office Manager
CAN'T SEE WHAT YOU'RE LOOKING FOR?
Don't worry!

Simply send us an unsolicited application or sign up for our job alerts and we'll send weekly career opportunities directly to your inbox.