Author

Siobhaun Hieber

Published

15 October 2020
Red Bull X-Alps 2021 Athletes Announcement
The world's toughest line-up for the 10th edition of the adventure race
The 10th edition of Red Bull X-Alps is set to kick off on June 20, 2021, in which 33 of the best athletes from around the globe will hike and fly over 1,000 km across treacherous alpine terrain. It's one of the most demanding and exhilarating races in the world and each edition sees the athletes pushing themselves past their limits. It's the ultimate test of body and mind. Organization for a race of this extent is vital and begins a long, long time before the main event.
Recruiting the world's toughest adventure race athletes
Applying our know-how
Every race requires participants, that's a no-brainer, but how you find the right people and get them to enter is where a lot of brain power and hard work come into play. You have to get the news out there, and that's exactly what our team at zooom did through the power of press releases and social media; as well as partnering up with brands like Salewa, Skywalk, Recco, and turnpoint partners like Wagrain Kleinarl, Austria, and Kronplatz, Italy. Once we got the right people interested, we ensured that once again the application process ran smoothly with our back- and frontend continual development of the Red Bull X-Alps website.
Once the application phase was closed, we put together the athletes selection with the Race Committee to define who will be the world's toughest adventure athletes. The announcement is one of the biggest parts of the competition, drawing attention from fans all over the world with eye-catching graphic and motion design; for example, in the most recent Athletes Announcement video. Our community management creates hype within the community, reaching out to new followers and gaining more adrenaline addicts with every edition.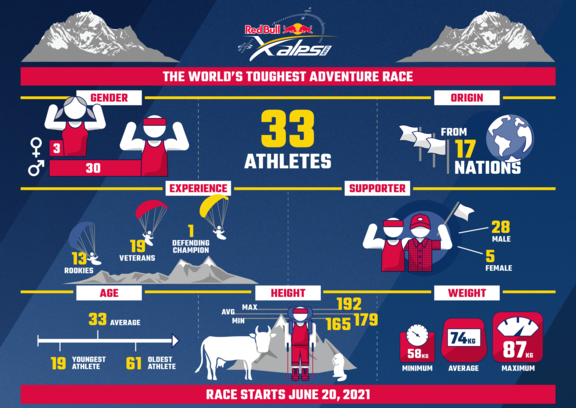 Communicating the announcement
Multi-channel content distribution
The Athletes Announcement is a true test of our agency's communication skills. On top of liaising with the athletes, we are also in charge of strategizing unique sponsorship opportunities; creating exciting content to be distributed across all social media platforms; sharing the news with the media; and, of course, organizing the Instagram Livestream event.

Next on the plan for zooom and Red Bull X-Alps is to set the course for the race by defining the new route, working closely together with the Race Committee. The route announcement will take place in March, 2021, and this time it's going to be very different.