Author

Alexandra König

Published

17 April 2019
Game, set and match
Just like we continue to push the limits of creativity, ODLO continues to amaze us with their tireless drive for performance and innovation. Whether they develop sportswear featuring state-of-the-art technology or set out to conquer new territories in design - the Swiss are always good for a surprise. After establishing the brand as innovative leaders of active layering via two consecutive campaigns in 2018, we were more than excited to get started with their Spring / Summer 2019 campaign.
ODLO is synonymous with an active and social lifestyle that our SS 2019 campaign mirrors. Starting off, we travelled across Europe to shoot key visuals and video sequences depicting all core sports disciplines of the brand, establishing a unique look that is guaranteed to stand out across diverse media channels and touchpoints. In the next step, we combined the imagery with motivational messages and product benefits in the form of creative headlines, that always related back to our well established #zeroexcuses. The result is an inspiring and highly recognizable 360° campaign that is as fun to watch as it was fun to make.
One of the ingredients for ODLO's success is a unique, genre-transcending collaboration with the world-renowned team of designers around architect the late Zaha Hadid. It all started when ODLO launched an exciting new product line at the end of 2018 that combined the aesthetics of architecture and sports and earned them massive recognition in the international sports community. Obviously, this success story had to be continued in 2019.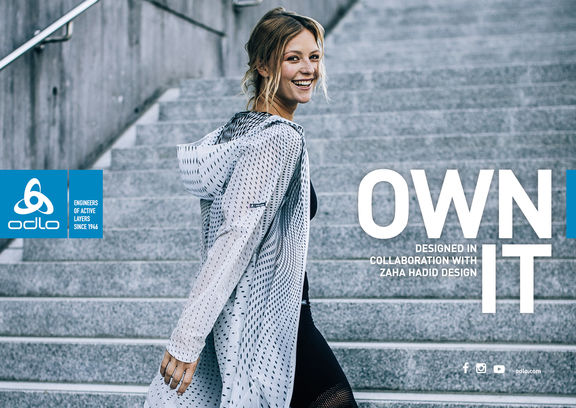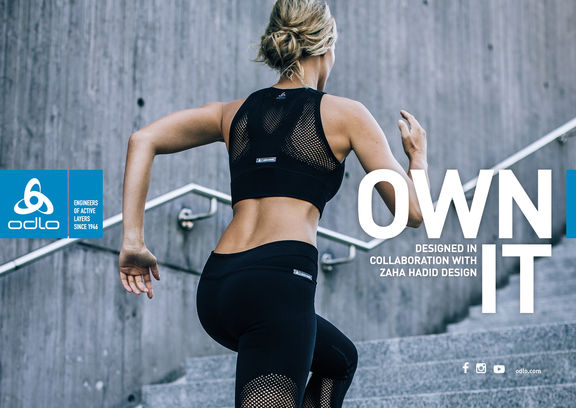 Fast forward to Spring / Summer 2019: the all new ODLO female activewear collection designed in collaboration with Zaha Hadid Design hits the market. Dedicated to all women with an active lifestyle, each individual piece makes sure that the pleasure of performance and a great look go hand in hand. Inspired by the aesthetics of Zaha Hadid designs, our campaign was shot in bustling metropolitan hot-spots in a modern, urban visual style.
With the claim "OWN IT" we set the tone of the campaign, empowering strong women around the globe. "OWN IT" encourages them to keep shining their light – no matter if it's inside the gym or out on the street.
You can get a little taste of the campaign right here. For the rest, you will have to keep your eyes open in Spring / Summer 2019!