Author

Siobhaun Hieber

Published

26 February 2021
Red Bull Illume Image Quest 2021 Is Now!
The World's Greatest
The Red Bull Illume Image Quest is the world's greatest adventure and action imagery contest that shines a light on the creativity and dedication of the photographers in the scene. Every edition brings out the most captivating images on the planet that celebrate the passion, lifestyle, and culture of this world and the people that play in it. zooom has been there from the beginning, but like… right from the very beginning. Red Bull Illume Image Quest was started and initiated by our founder Ulrich Grill in 2006, and together with Red Bull it has become like the 'Oscars of adventure and action sports photography'. We've been creating everything from concepts, to graphics, texts and video assets, building media relations and doing the event organization. We run it from A to Z.
Submissions for 2021 are open
We're excited to say that Red Bull Illume Image Quest is back for its sixth edition after a record-breaking 59,551 submissions in 2019. The submissions phase has officially begun, which means you can submit your best imagery from March 1 until July 31, 2021 via redbullillume.com and Instagram. There are 10 categories to choose from, and you can trust us when we say that choosing the right category is important, because it highly influences the judges' decisions.
There are 9 categories returning for the 2021 edition, which are: Masterpiece by SanDisk, Emerging, Energy by Red Bull Photography, Creative, Innovation by EyeEm, Playground, Lifestyle by COOPH, and RAW by Leica. Best of Instagram, which is now sponsored by Lenovo, is also back and has a few updates. The first is that content creators can submit still or moving image, which will be judged separately resulting in 2 Category Winners. One thing stays the same, and that's that the people get the final say through community voting on redbullilume.com.
This edition also introduces a brand-new category for people to enter called Photo Story. Sometimes there's more to a scene than a single image can convey, so Red Bull Illume is giving creators the opportunity share their stories using a slideshow format, from 30 seconds up to 3 minutes. We're excited to see the submissions, because this category opens up the contest to a whole new level of creativity.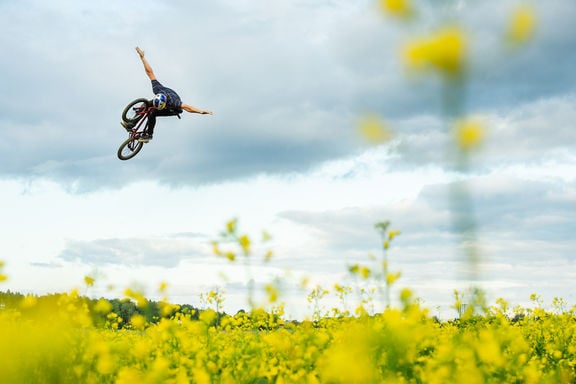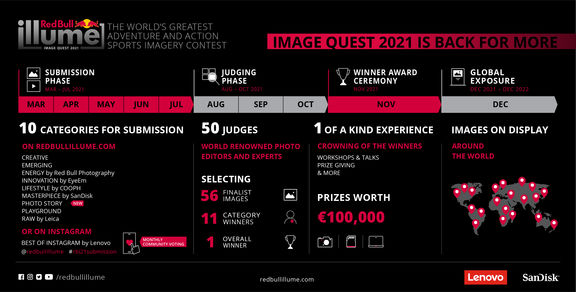 Enter To Win
There's a category for every type of adventure and action sports imagery creator, professional or amateur, and a bunch of reasons to take a shot, plus submissions are free. The Category Winners and Overall Winner will each receive a beautiful trophy, as well as incredible prize packages from our partners worth more than €100,000! Some of the prizes include the latest products from global computing leader Lenovo, to empower even more creative self-expression; storage solutions from SanDisk to ensure you never lose a shot; as well as high-quality cameras from Leica and stylish photography apparel and accessories from COOPH.
Every Finalist earns their spot at the Winner Award Ceremony, taking place in November 2021. It's the event that content creators get excited about as everyone gains immense exposure while their work is shared with the world. It is also the release of the esteemed Red Bull Illume Limited Edition Photobook, a prize possession even during the digital age.
Host The World's Greatest
Celebrate the hard work and creativity of the adventure and action photographers and bring the one-of-a-kind exhibition to you! We're always excited to collaborate with new partners for exhibitions, activations, and unique opportunities. Get in touch with one of us to find out how you can become a part of the Red Bull Illume Image Quest 2021.