Author

Siobhaun Hieber

Published

31 August 2021
No Compromises
Around the world, passionate photographers, videographers, and content creators trust Lowepro with protecting their gear in every creative endeavor. Since the brand's inception, they have dedicated their time to engineering camera bags that active creatives can rely on. In 2021, Lowepro launched their GreenLine initiative with the PhotoSport III, their first photo-hiking backpack made using 75% recycled materials. The brand knew they could once again trust zooom to bring their idea to life, just like we did on previous projects with Lowepro.
Unpacking the campaign
We know that being passionate about the outdoors also means you want to protect it, because you can't be pro adventure without being pro planet. The PhotoSport III protects your gear, the places you shoot, and sets a new milestone for all of their future products. Our team was responsible for bringing this philosophy through in concept and final executions; from a go-to-market strategy, to the look & feel, to final print and video executions. The PRO campaign was also integrated onto their global website, social media and out-of-home.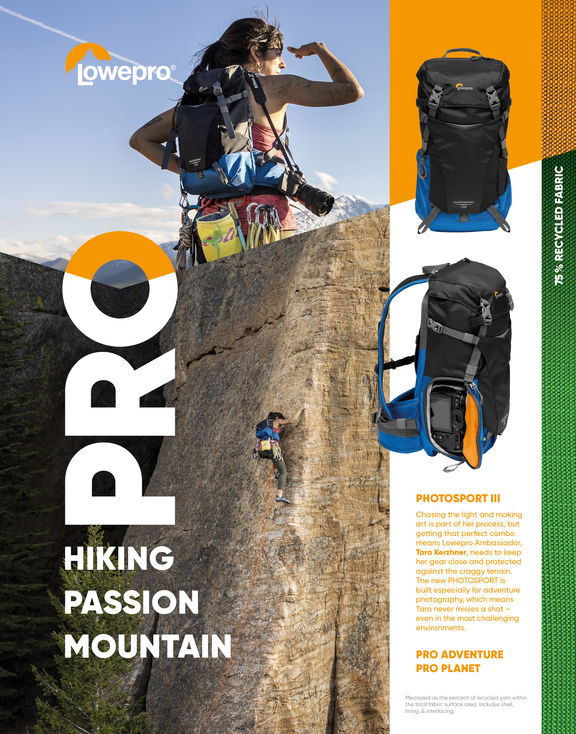 Countless more adventures
The PhotoSport III is just the first backpack to be released with Lowepro's GreenLine design initiative, with many more to come very soon. We can't be too specific, but we can say that you should follow us on social media at @zooomproductions to stay up to date with the latest news and projects keeping us busy.