Author

Siobhaun Hieber

Published

17 November 2021
Support System
The thing most people don't realize about spinal cord injury is that it can happen to anyone at any time, because contrary to popular belief, things like extreme sports only accounts for 3% of the cases, with over 70% caused by car accidents or falls. The Wings for Life Foundation helps through funding research and studies in order to find a cure for spinal cord injury and since the foundation's inception in 2003, zooom has been supporting Wings for Life in getting closer to their goal.
Funding a Way Forward
Finding the cure won't happen in a day, after one donation, or even at the end of a memorable Wings for Life World Run. Achieving something of this magnitude requires ongoing and unwavering support, because people can only help each other by working together. We like to believe that helping out, however you can, is a way to make the world a nicer place.
Wings for Life is a great cause run by people who are passionate about discovering the cure to spinal cord injuries and paraplegia by funding world-class research and studies.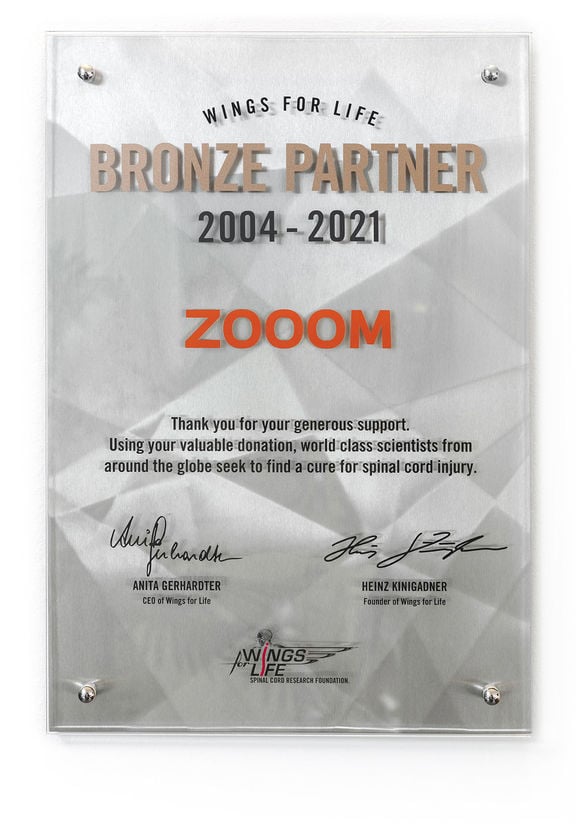 Every Step Counts
Want to get involved? Try taking part in the next Wings for Life World Run 2022 and run for those who can't. It's loads of fun because there's no set distance, you simply run as far as you can until the chaser car catches you! Entry to the race is already open and the entire entry fee goes towards the foundation. You can also find out more on their website and follow them on social media.
Did you know, for every purchase of the Red Bull Illume Photobook 2021, both zooom and the photographer's profit margins are donated to the Wings for Life Foundation. Pre-order your very own limited-edition photobook today and discover the world's greatest adventure and action photography!