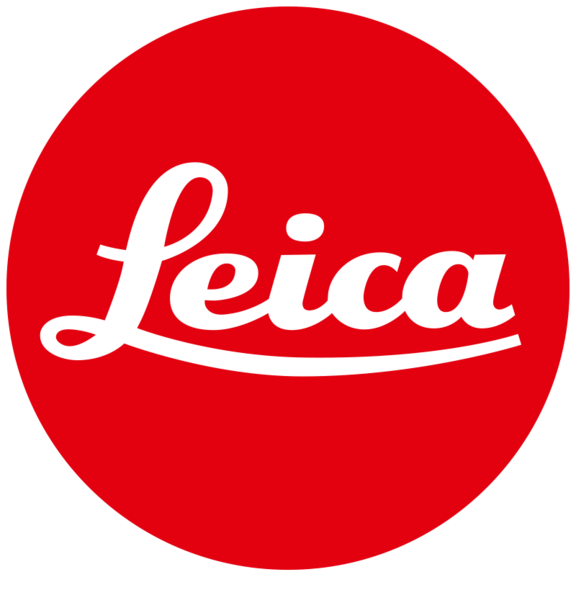 Reinventing a Legend
The new Leica M11 has been unveiled! This incredible piece of technology is built to impress and sets a new benchmark in rangefinder photography, including nearly 50 innovations. While staying true to its classic look, the entirely reconstructed M11 features an exclusively designed full-frame sensor with Triple Resolution Technology, granting free choice between 60, 36 and 18 Megapixels. Our task was to ideate a creative concept which payed tribute to this next chapter in the legendary M-Story and explored innovative ways to present Leica's new flagship product to their global audience. One of the outcomes was the first incorporation of state-of-the-art CGI into a Leica product campaign ever! In addition to the main campaign visual, we also designed a target group specific visual that shines the spotlight on another product benefit: since 1954, the M-System has embodied durability, versatility and reliability, setting a prime example for sustainability long before it became a buzzword. Every piece of communication ensures that the photographic community knows exactly how, and why, the new Leica M11 truly is the reinvention of a legend.
Tell Stories like no one else
Amongst all premium camera manufacturers throughout the world, Leica enjoys a truly legendary reputation. We highly value our longstanding partnership with the iconic brand, and were more than thrilled when they asked us to create a 360° campaign presenting their state-of-the-art, mirrorless full frame camera system: the Leica SL System.
The SL System is extremely versatile and enables both videographers and photographers to tell stories with significance. Based on this insight and our positioning, we created a concept about what it really means to make a fundamental choice. To bring our concept to life, a captivating and emotional campaign video was produced that speaks directly to the soul of a photographer; while a series of key visuals covered the more technical side of the SL System. Besides portraying some of the world's most renowned photographers, each key visual was designed to represent an individual aspect of the Leica SL System that truly stands out and creates interest among a very specific target audience. Have you already done your fundamental choice?
The Way Of M
Known to stick to their own paths, Leica M photographers are a unique and rare species. They work hard to find their own visual style, often leaving a mark in photographic history. It's no surprise that the Leica M family includes some of the most creative storytellers out there. In a project that took us from Europe all the way to the US West Coast, we set out to tell their stories against the most inspiring and bizarre backdrops one could wish for.
We discovered how liberating limitations can be with black & white specialist Alan Schaller on a grey and rainy day in London. This was followed by a lesson about the legendary Leica glass from engineer Peter Karbe. Our journey saw us coasting through a Californian ghost town with street photographer Joe Greer, where we met an abundance of colorful characters and were reassured that it's always worth walking the extra mile – whatever it takes!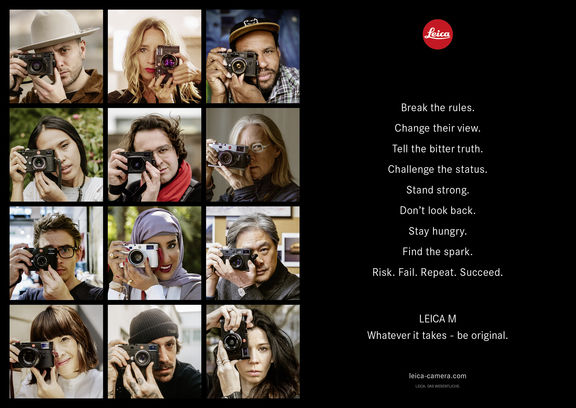 Instant photos on a whole new level 
'Polaroid' has become the generic term for any instant camera around, but one of them stands out from the rest: The Leica Sofort. A vintage-inspired camera that offers on-the-spot photos in true Leica style and tradition.
Our campaign was aimed at sophisticated image makers – people who care about composition, technique and aesthetics. We wanted to show them the beauty in everyday life whilst demonstrating the many great reasons to keep your Leica Sofort close at hand.
A real-deal adventure camera
For years, 'outdoor' cameras languished in the world of the point and shoot; poor image quality, little to no manual control, cheap materials and limited features. We wanted a camera that could get wet and stand up to real adventures without compromising on the performance or quality. We planted the seed and they followed up with the Leica X-U; a truly one-of-a-kind camera. To coincide with its release, we executed a full-scale launch campaign… and the rest is history.
Making Merchandise that matters 
Merchandise done well is an excellent tool to help turn fans of your brand into its greatest ambassadors. For Leica, our t-shirt series featured stylish designs and slogans that guarantee to put a smile on the face of any photographer. See one of these rare finds in public and you'll know they're part of the club.
Always innovative, modern, and creative – with an eye towards the future and full of ideas. That's my experience with zooom productions. When you walk into the agency you're greeted with not only young, adventurous people, but a friendly and inspiring atmosphere.
Founder Ulrich Grill's interaction with his young team is authentic and effective – they're enthusiastic and engaged. It's always a pleasure to work with zooom.
Karin Rehn-Kaufmann, Art Director and Chief Representative, Leica Galleries International
REFINING LIFE WITH LEICA
What brings us the most enjoyment out of our work with Leica? That we get to help them with so many unique projects surrounding the brand – from ambassador projects, to classic advertising, to unique branded merchandise that helps the brand find new audiences and fans. One thing is for sure – like the value of a Leica camera, we hope this friendship is forever.
LET'S GET TOGETHER
We're full of ideas and ready for any challenge; no matter how big or small. Jump onboard and together we'll make great things happen.
You in?