Internship Events & Comms Team (m/f/d) - as of spring 2024
Building Better Brands
Integrity, focus, and excellence – our values not only define our work, they're exactly what we look for in our team members.
zooom is not your average creative agency, we pride ourselves on being approachable and down to earth. We're a young and dynamic team with more than 15 nationalities from all over the world. Together, we inspire and aspire to push the boundaries of each and every project we engage in.
We are always looking for people with innovative thinking, different skills and interests who would like to complete a compulsory internship with us. zooom offers you the right environment and the support you need to develop your potential.The purpose of this internship is to complement your education, to put into practice what you have learned during your studies or to give you first impressions and experiences for your future career.
YOU ...
are currently in an active study program - ideally in the field of business/communication/event management
have ideally already gained some work experience
are a responsible organizational talent and work accurately and reliably
are representative, polite and customer-oriented appearance
enjoy working in a team
are enthusiastic about administrative work and are very good with MS-Office
are looking for a mandatory internship by school or university (min. 4 - 6 months)
And will ...
help with the organization of international events such as Red Bull X-Alps and Red Bull Illume
supervise events, including planning; support during the on-site process incl. post-processing
collaborate in the creation of presentation documents/concepts/printed material
cooperate with suppliers and media partners
take care of administrative tasks in connection with our event management team
support with updating of contact data in the address database with regard to DSGVO (database management)
Download karriere.at version
Download karriere.at DE version
INTERNSHIP
Join us for several months as part of your studies and learn on the job working in one of the teams. It could be in design, events or communications. It's a great chance to gain valuable experience.
JUNIOR
Your first step on the career ladder! This is the entry position for graduates looking to get started. You'll be working on big projects right from the start and learning fast as you progress.
PRO
This is where the magic happens. You could be an account manager, graphic designer, videographer. You already have some experience and now you're working directly with our global sports, lifestyle and photography clients.
SENIOR
You're a great motivator and thrive on taking the lead, driving projects through from concept to completion, giving direction and sharing knowledge, while developing your own experience.
LEAD
Now is the time to help shape creative and strategic vision, for example as Art Director, Head of Communications or Content Creation. You're already an experienced leader, full of ideas and ready to take on full responsibility.
TEAM LEAD
The most senior leadership role – you'll be working directly with the CEO, leading and managing a department and working on budgets, planning, strategy development, business opportunities and human resources.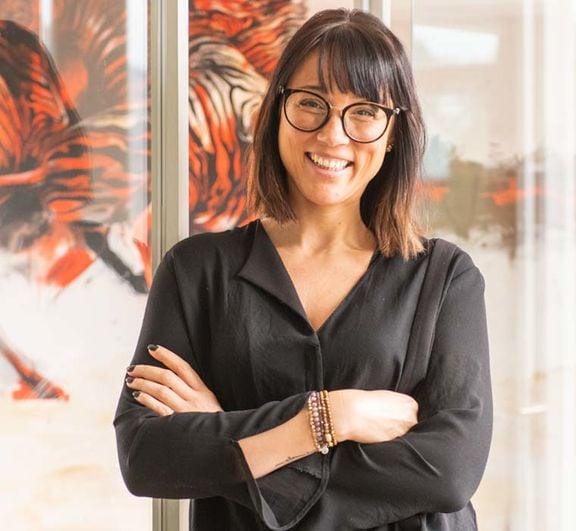 I LIKE WORKING ALONGSIDE COOL, CREATIVE AND INSPIRATIONAL PEOPLE AND THEREFORE I CAN'T WAIT TO SEE YOUR APPLICATION TO CREATE AWESOME STUFF TOGETHER.
Ruth Leon-Alarcon, HR & Office Manager
CAN'T SEE WHAT YOU'RE LOOKING FOR?
Don't worry!

Simply send us an unsolicited application or sign up for our job alerts and we'll send weekly career opportunities directly to your inbox.