Mobile App UI / UX Designer (m/f/d)
Building Better Brands
zooom productions is a full-service communications agency with offices in Fuschl am See / Austria and Los Angeles / USA and Tokyo / Japan. With a focus on adventure and action sports, lifestyle and imaging, zooom always has an eye out for the unusual and unconventional trends. The portfolio ranges from communication and advertising concepts to web and multimedia design, photo / film productions and content providing. Our clients include renowned global businesses such as Red Bull, GoPro, Leica, Sony, Salewa and Yodobashi.
We are hiring: Mobile APP UI / UX Designer
For our office in Tokyo, we are looking for a Senior Mobile App UI/UX Designer to create amazing user experiences. The ideal candidate should have an eye for clean and artful design, possess superior UI skills and be able to translate high-level requirements into interaction flows and artifacts, and transform them into beautiful, intuitive, and functional user interfaces.

If you are proactive, self-motivated with a positive, curious and can-do attitude, we would like to hear from you!
Your Responsibilities
Lead the design direction of our digital products.
Collaborate with product management and engineering to define and implement innovative solutions for the product direction, visuals and experience.
Execute all visual design stages from concept to final hand-off to engineering.
Conceptualize original ideas that bring simplicity and user friendliness to complex design roadblocks.
Design, conduct, and analyze the results of experiments to precisely quantify the impact of varying design components.
Create wireframes, storyboards, user flows, process flows and site maps to effectively communicate interaction and design ideas.
Present and defend designs and key milestone deliverables to peers and executive level stakeholders.
Conduct user research and evaluate user feedback.
Establish and promote design guidelines, best practices, and standards.
Assist developing and documenting a multi-brand design system.
Our requirements
Excellent visual design skills with sensitivity to user-system interaction.
Proven track record in UI/UX design with focus on app design for more than 7 years.
Demonstrable, recent design skills with a strong portfolio.
Good eye for details, colors and typography.
Good communication skills and team player
Curiosity to learn and constant self-driven hunger to stay up to date.
Solid experience in creating wireframes, storyboards, user flows, process flows and site maps.
Excellent skills in the Figma "ecosystem".
The ideal candidate has profound knowledge in token based Design Systems.
Proficiency in Photoshop, Illustrator, Figma, Sketch or other visual design and wire-framing tools
Ability to present your designs and sell your solutions to various stakeholders.
Ability to solve problems creatively and effectively.
Up to date with the latest UI trends, techniques, and technologies for responsive web and app development.
BS/MS in Human-Computer Interaction, Interaction Design, or related.
Experience working in an Agile/Scrum development process.
Basic Knowledge in HTML, CSS, and JavaScript for rapid prototyping
Programming skills in Flutter for iOS or Android is a plus but not mandatory.
Language Requirements
Proficiency in both Japanese and English languages (written and verbal) is highly preferred
Our company speak is English
Employment Type
Fulltime; 40h; Saturday and Sunday are free.
This position requires your attendance in our office. As for now we cannot offer work from home or hybrid models for this position.
Download karriere.at version
Download karriere.at DE version
INTERNSHIP
Join us for several months as part of your studies and learn on the job working in one of the teams. It could be in design, events or communications. It's a great chance to gain valuable experience.
JUNIOR
Your first step on the career ladder! This is the entry position for graduates looking to get started. You'll be working on big projects right from the start and learning fast as you progress.
PRO
This is where the magic happens. You could be an account manager, graphic designer, videographer. You already have some experience and now you're working directly with our global sports, lifestyle and photography clients.
SENIOR
You're a great motivator and thrive on taking the lead, driving projects through from concept to completion, giving direction and sharing knowledge, while developing your own experience.
LEAD
Now is the time to help shape creative and strategic vision, for example as Art Director, Head of Communications or Content Creation. You're already an experienced leader, full of ideas and ready to take on full responsibility.
TEAM LEAD
The most senior leadership role – you'll be working directly with the CEO, leading and managing a department and working on budgets, planning, strategy development, business opportunities and human resources.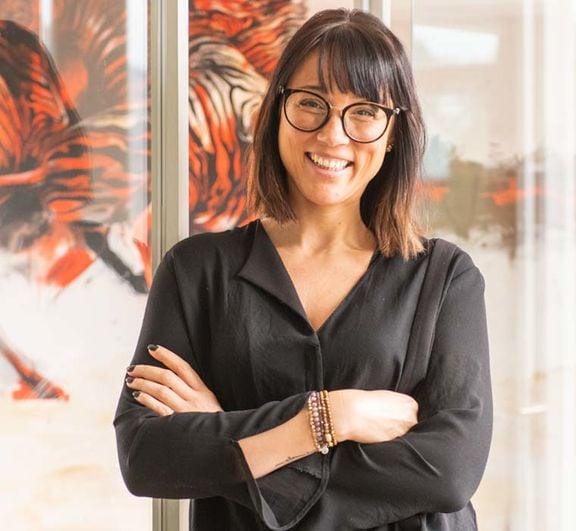 I LIKE WORKING ALONGSIDE COOL, CREATIVE AND INSPIRATIONAL PEOPLE AND THEREFORE I CAN'T WAIT TO SEE YOUR APPLICATION TO CREATE AWESOME STUFF TOGETHER.
Ruth Leon-Alarcon, HR & Office Manager
CAN'T SEE WHAT YOU'RE LOOKING FOR?
Don't worry!

Simply send us an unsolicited application or sign up for our job alerts and we'll send weekly career opportunities directly to your inbox.